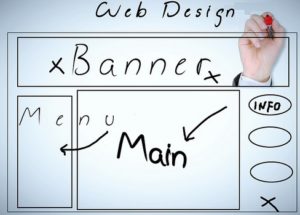 There are literally thousands of poorly designed business websites online. Whether the content is the problem or the overall design, one thing is certain and that is a business with a shabby website will not garner a satisfactory level of success. Impressions are everything in the business world, which is why many businesses hire a professional web designer like those on our own team to develop and maintain their websites. Consumers that land on sites that are carefully designed tend to feel more comfortable and stay on the site longer, and this is something that we at the Delaware SEO Group can help you with.
A lot goes into developing an excellent website. Things such as the background colors, designs, patterns, and layout of the content are all crucial to make the site easy to read. Each part of a website should be laid out so that visitors can easily find the information they are seeking. For example, it is a good idea to categorize items or articles in one area to make them easier to navigate.
If a business places all of their similar items in one spot, consumers can easily find them. The same goes for posting sales information or educational articles about the products or services being offered. Placing dates or titles of each article can be a big help to consumers interested in researching products before buying them. Now, keep in mind that this is more than just our opinion. These are things we have learned and impressed on our clients for years.
As a business owner, you probably already realize the importance of having an attractive and well-organized website. Your customers certainly appreciate landing on your site when it looks professional and is easy to navigate. If you provide a stress free way to look at, learn about, and purchase your products consumers will definitely buy from you versus a company with a poorly constructed website.
Most people will leave a website that does not immediately grab their attention, or if it is difficult to navigate and disorganized. Another thing to consider when planning your website design is whether or not it is accessible from all types of mobile devices. Now that the smart phone is capable of replacing most personal computers a lot of people just use their phones or tablets for internet browsing and shopping.
In addition to a great layout, we also must emphasize that the content on your website has to be engaging and relative to your business in order to convert visitors to sales. By placing informative articles that enhance the benefits of your products or services, you will help consumers decide if they want or need what you have to offer. The content you post is equally as important as any other aspect of web design.
A growing number of businesses are finding out that it is far easier to hire a professional to handle the creation or remodeling of a website. When a professional designs a website the business will likely see immediate results. Our group is skilled at developing professional websites and content that is alluring to consumers. You should consult with a professional if you are struggling to get your business off to a good start, or if you think your website needs touched up. The money you invest in your web development will likely pay for itself once the profits start rolling in.